The Achangs, with a population of 27,708, mainly inhabit Tongchuan and Lianghe counties of Dehong Dai-Jingpo Autonomous Prefecture, Yunnan Province. A few are found in Luxi, Yingjiang, Tengchong and Yunlong counties with their communities intermixing with Dai and Han villages.
The Achangs build their homes in the Gaoligong Mountains farming on tiny plains, and in river valleys. The land is fertile and the water abundant, suitable for fine rice strains, which the Achangs are noted for.


As the aborigines in the territory of Yunnan, historical records of different periods referred to these people as the Echangs or Achangs. After the founding of New China, they were generally called the Achang Nationality.
The Achang language, containing the Tianghe and Husa dialects, belongs to the Tibeto-Burman group of the Sino-Tibetan family. As the Achangs have long amalgamated with the Hans and Dais, most Achang people can speak both Chinese and the Dai language.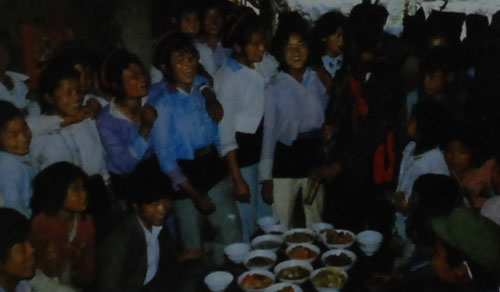 An Achang wedding ceremony. When the groom meets his bride, her sisters will play tricks on him. First, they blacken the groom's face with ashes and then force the groom to pick up a piece of meat with their deliberately prepared bamboo sticks, which are much longer than the normal chopsticks. As there are several tricksy relatives, the groom's simple task seems extremely hard to accomplish. What a poor groom and what an amusing wedding ceremony!