As part of the 'food museum' craze sweeping across China, Beijing has recently unveiled a museum dedicated entirely to roast duck.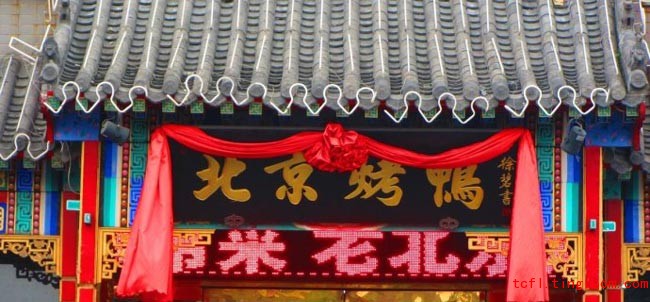 [běi jīng kǎo yā ] 北京烤鸭 Beijing Roast Duck
Roast duck is a popular Beijing dish. It became a main dish on the imperial court menu as early as the Qing Dynasty (1616-1911) and was many emperor's favorite, winning it a title of the number one food in the world. Nowadays, roast duck has become a favorite dish for people from China and abroad.
The ducks used to prepare Beijing Roast Duck is of the highest quality. Its meat is fatty but not greasy, most ideal for cooking roast duck. The roasting methods are specially worked out and have higher demands on chefs' skills: When the duck is ready, you must first heat the oven with hardwood from fruit trees. When the fire is up, you have to keep it restrained. Then you hang the duck inside the oven until it turns shiny brown. The roast duck would have a thin crisp skin and tender meat, a delicious treat for your appetite.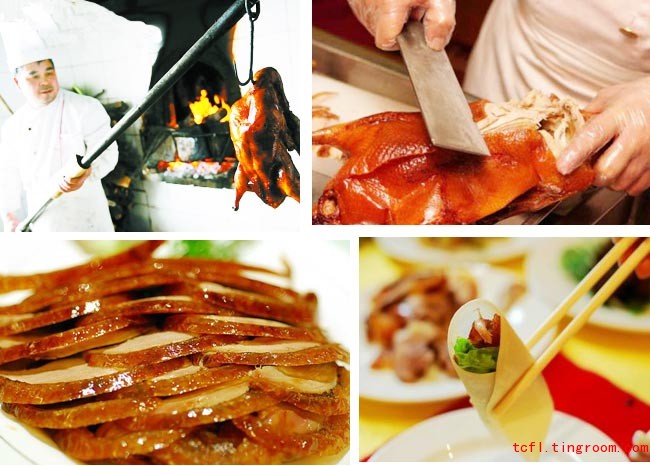 [féi ér bú nì ] 肥而不腻 fatty but not greasy
[kǎo zhì jiǎng jiū] 烤制讲究 Roasting methods have higher demands on chef's skills
[wài jiāo lǐ nèn] 外焦里嫩 crisp skin and tender meat
The serving of roast duck has some special procedures. You do not cut it and eat it directly. You slice it into smaller and thinner pieces. Strictly speaking, you must slice the whole duck into 108 pieces. Every piece should have both skin and meat. When eating, you take several pieces of the duck, dip them into sweet bean sauce and put them on a steamed pancake, together with some spring onions. Then you roll the steamed pancake and eat it with your hands. The heart, liver, wings, feet and eggs of the duck can be prepared into various cold or hot dishes. Top chefs can prepare as many as over 80 dishes out of ducks, making a delicious duck-only banquet.
As a representative of Chinese cuisine, Beijing Roast Duck has gained popularity among foreigners.