The ice bucket challenge -- "raising awareness" of amyotrophic lateral sclerosis (ALS) -- has gone viral among China's celebrities from tech executives to movie stars.
冰桶挑战—一项旨在让更多人知道"肌肉萎缩性侧索硬化症"(ALS)的活动在中国风靡,从科技大佬到电影明星都纷纷响应。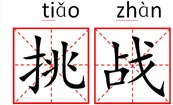 As of Friday, the campaign(活动) had raised more than 8.5 million yuan (1.38 million U.S. dollars) for China-Dolls Center for Rare Disorders (CCRD)(瓷娃娃罕见病关爱中心), a non-profit organization(非营利组织). The organization only received two million yuan in the whole of 2013.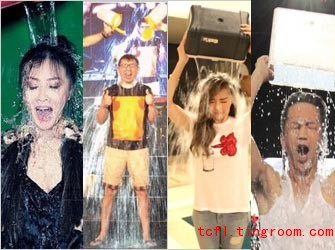 The campaign, which asks people to either(要么) drench themselves with ice water(往自己身上倒冰水) or(要么) donate to(向...捐款) the ALS foundation, or both, has brought unprecedented attention(前所未有的关注) to the disease(疾病).

重点词汇 Key Words:
挑战 tiǎo zhàn
challenge
eg. n. zhè shì zuì hòu yī chǎng bǐ sài ,yīn wéi zài méi yǒu rén xiàng tā fā qǐ tiǎo zhàn
这是最后一场比赛,因为再没有人向他发起挑战。
This was the last fight, for no one else challenged him.
v. wǒ zhèng xiǎng huàn gōng zuò ,xiǎng cháng shì diǎn bú yī yàng de shì qíng lái tiǎo zhàn yī xià zì jǐ
我正想换工作,想尝试点不一样的事情来挑战一下自己。
I'm trying to move on and stretch myself with something different.
要么...要么... yào me ...yào me ...
(conj) either ... or... (used when given a choice between two things)
eg. yào me jìn lái ,yào me chū qù
要么进来,要么出去。
Either come in or go out.
nǐ yào me zì jǐ lái ,yào me jiù tuō rén bàn lǐ zhè jiàn shì
你要么自己来,要么就托人办理这件事。
Either you come in person, or you entrust someone with the matter.