Mariah Carey has kicked off a 10-day concert tour of China in Beijing's Worker's Stadium. This marks the pop star's first tour in China, and there are many excited fans.
玛丽亚凯莉在北京工人体育场开启了为期10天的中国巡演。这是乐坛天后的首次中国巡演,受到了粉丝们的热烈欢迎。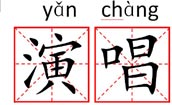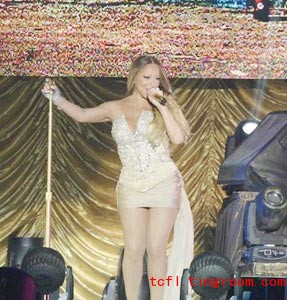 Pop diva(流行歌手) Mariah Carey is bringing her world tour(世界巡演) to China. "The Elusive Chanteuse Show " is in support of her fourteenth studio album(专辑) which was released(发行) in May.

This is her first ever(首次) tour of the Chinese Mainland. Carey's only previous appearance in China was a lone concert(演唱会) in Shanghai in 2003, so many fans have been looking forward to(期待) this.
This is Carey's eighth concert tour and her first re-emergence(复出) since her last tour in 2006. At last Friday's concert, the pop star performed(演出) for an announced crowd of 38,000 at Beijing Worker's Stadium. It was a moment long in the making for some of Carey's fans(粉丝). Her concert stop in Beijing will be followed by performances in Chengdu, Chongqing, Tianjin, and Shanghai.
重点词汇 Key Words:
演唱 yǎn chàng
sing/singing
The word has two characters: "演" means perform, and "唱"means sing.
v. eg. 她想听他现场演唱。
She wanted to hear him sing in person.
n. eg. 他的演唱比以前要动听许多。
He sang much more sweetly than he has before.

演唱会 yǎn chàng huì
concert
eg.乐队举行了13场全国巡回演唱会。
The group made a 13-concert cross-country tour.
粉丝fěn sī
fans
Some Chinese words are from English, and there are more as follows:
[bā lěi]芭蕾 ballet
[kǎo bèi] 拷贝copy
[jiǔ bā] 酒吧 bar
[yǐn qíng] 引擎 engine
[bái lán dì]白兰地 brandy
[bā shì] 巴士 bus
[kā fēi] 咖啡 cafe
[jī yīn] 基因 gene
[hàn bǎo] 汉堡 hamburger
[jiá kè] 夹克jacket
[qiǎo kè lì] 巧克力chocolate
[mó tè] 模特 model
[shā fā] 沙发 sofa
[lún tāi] 轮胎 tire
[làng màn] 浪漫romance
[sāng ná] 桑拿sauna
[shā yú] 鲨鱼 shark
[xiū kè] 休克shock
[dēng pào]灯泡 bubble
[ké sòu] 咳嗽 cough