Directed by Jingle Ma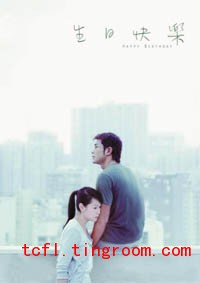 Though directed by a male director, Jingle Ma (Love in the City), Happy Birthday is told from a female perspective and is essentially a romantic story for women, especially professional women. This may be because the screenplay was adapted by actress and director Sylvia Chang (Tempting Heart), from lead actress Rene Lau's novel of the same name.
After their romance blossoms at college, students Xiaonan and Xiaomi decide to break up after Xiaonan goes abroad to study. The two still keep in touch with each other and every year, without fail, Xioanan sends Xiaomi birthday wishes by e-mail or telephone. As the years pass their love remains, although neither will admit it to the other. This is especially true of Xiaomi, who has trust issues as a result of her traumatic childhood.
The film subtly explores a woman's mixed attitudes towards love. Sensitive, shy, insecure and easily upset, Xiaomi is wonderfully brought to life by her creator, Rene Lau. The story's central themes are conveyed effectively thanks to the smooth camerawork of director Jingle Ma, who was previously a renowned cinematographer. Lacking colorful images, heavy dialogue or particularly dramatic moments, Happy Birthday impresses for its simplicity and honesty. The film is imbued with touching details and a poetic piano score, making it a joy to watch.