电影名:十面埋伏
导演:张艺谋
主演:刘德华,金成武,章子怡
类型:爱情 动作
上映日期:2004-5-19
Film Name: House of Flying Daggers
Directed by: Zhang Yimou
Starring: Andy Lau, Takeshi Kaneshiro, Zhang Ziyi
Release dates: May 19, 2004 (Cannes)
July 15, 2004 (Hong Kong)
July 16, 2004 (China)
Introduction:
House of Flying Daggers is a 2004 wuxia film directed by Zhang Yimou. It differs from other wuxia films in that it is more of a love story than a straight martial arts film.
The film was chosen as China's entry for the Academy Award for Best Foreign Language Film for the year 2004; but was not nominated in that category though it was nominated for the Academy Award for Best Cinematography.
The film is set in the year 859. The once great Tang Dynasty is now in decline. Numerous rebel groups have formed, the largest of which is the House of Flying Daggers, based in Fengtian county. The Flying Daggers steal from the rich and give to the poor, gaining the support of the locals.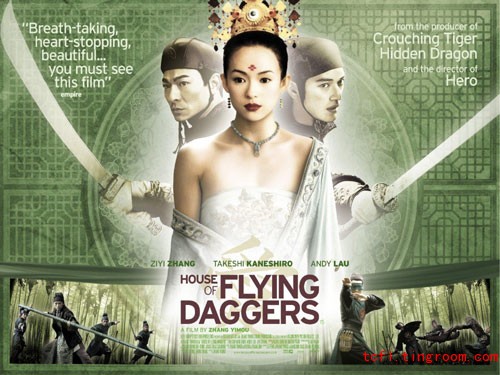 The film features the theme of a beautiful woman who brings woe to two men.
This theme is borrowed from a famous poem written by the Han Dynasty poet Li Yannian (李延年):
Poem in Chinese with Pinyin:

Běifāng yǒu jiārén, juéshì ér dúlì.
北方有佳人,绝世而独立。

Yí gù qīng rén chéng, zài gù qīng rén guó.
一顾倾人城,再顾倾人国。

Nìng bù zhī qīng chéng yǔ qīng guó.
宁不知倾城与倾国。

Jiārén nán zài dé.
佳人难再得。

English Translation:

In the north there is a beauty; surpassing the world, she stands alone.

A glance from her will overthrow a city; another glance will overthrow a nation.

One would rather not know whether it will be a city or a nation that will be overthrown.

As it would be difficult to behold such a beauty again.

Interesting sidelights:

Director's Comment on the Film--Zhang Yimou: I am neither an expert in swordsmen stories nor in shooting kung fu films. My aim is not to make a swordsmen film in the traditional sense but to tell something about the characters and their emotion, which, I hope, may just distinguish my film from those traditional ones.
So after watching this film, you will find that what strikes you the most is the three people's destinies, their sentiment and their complicated relationship but not those furious action performances or the visual scenes in the film.
本片经典对白(classic dialogue excerpted from the movie)
刘捕头: 你要跟他走nǐ yào gēn tā zǒu?!你为什么要跟他走nǐ wéi shí me yào gēn tā zǒu?你是我一生中最爱的人nǐ shì wǒ yī shēng zhōng zuì ài de rén,你可以不爱我nǐ kě yǐ bú ài wǒ,但是你不可以跟他走dàn shì nǐ bú kě yǐ gēn tā zǒu!跟他走就要死gēn tā zǒu jiù yào sǐ,小妹xiǎo mèi,是你逼我 杀你的shì nǐ bī wǒ shā nǐ de。(You are leaving with him? Why!You are the love of my life. Even if you don't love me, you can't leave with him! If you go with him, sis, you are forcing me to kill you.)
小妹: 我知道,你会这样做。wǒ zhī dào ,nǐ huì zhè yàng zuò (I know, you will do so.)
刘捕头:你既然知道,如此为何?你为何如此,你为何如此,为何?!(You know, then why are you still doing this?)
小妹: 去过风一般的日子。qù guò fēng yī bān de rì zǐ (To live like the wind, meaning live happily and free.)
刘捕头: 啊~~~~~~~~~~! (Ah...)
Notes:
逼bī :to force somebody to do something
风一般fēng yī bān:to be like the wind. To live a wind-like life means that to live a life happily and freely without any pressure and restraint.