Directed by Zhang Yang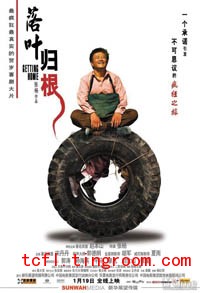 Based on a true story from 2005, the plot of this tragicomedy may be reminiscent of The Three Burials of Melquiades Estrada by Tommy Lee Jones, but it's told in a very Chinese way.
After a migrant worker – migrant workers have been the hot topic in Chinese movies and literature of late – named Lao Zhao (Zhao Benshan) watches his close friend die from drinking, he embarks on a long journey to carry his friend's body to his distant hometown in the Three Gorges area (yet another hot topic for Chinese filmmakers). On the road, Zhao comes across different people and many hardships. The audience follows the adventures that this sometimes tragic, sometimes comic figure experiences during his journey, as he encounters characters from the lowest rungs of society.
The entire film rides on the vivid performance of comic star Zhao Benshan, who injects energy and subtlety into his portrayal of a kind-hearted, honest and stubborn peasant. Set in Yunnan, the beautiful landscape allows for a satirical look at different economic strata of Chinese society – farmers work hard for subsistence-level wages while urbanites drive luxury-brand cars on their provincial holidays.
This is director Zhang Yang's first attempt at making a film about migrants. Zhang grew up in Beijing and has made his mark directing films about urban youth, so it's not surprising that he and his screenwriting partner still do not have a plausible grasp on rural culture. For instance, some of the dialogue is too literary and doesn't fit the rhythms and color of countryside patois. The plot can be unnatural, too – like a romantic subplot that, instead of lightening the tone, takes away from the depth that this story could have reached.