Starting(开始) on Monday, drivers(司机) in Chengdu, Sichuan Province, caught sticking(粘贴) dolls(玩偶) onto the exterior(外部) of their car will be hit with a 200 yuan fine(罚款) and two demerit points(扣两分), according to a report at newssc.org.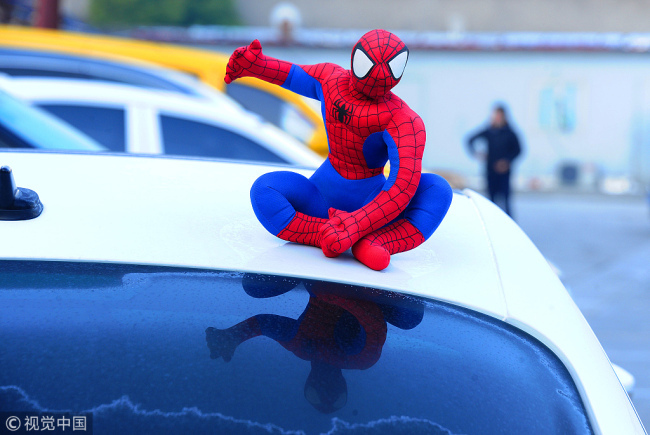 Traffic authorities put an end(叫停) to owners decorating their cars with Marvel superheroes, Minions, and Super Mario and Disney Princess characters because of concerns(关心) about them flying off(飞走) during fast-speed driving, which might led to a traffic accident(事故). Authorities say that drivers who cause an accident by breaking the rules(规定) will be held responsible.
Sticking dolls onto car roofs has become a trend(潮流) over the past few months in China. Traffic police across the country are asking drivers not to add unnecessary accessories(配饰) or decorations(装饰) to the outside of their vehicles(机动车) so as to help avoid(避免) accidents.
词汇 Words:
[kāi shǐ] 开始 start
[zhān tiē] 粘贴 stick
[bì miǎn] 避免 avoid
[wán ǒu] 玩偶 doll
[shì gù] 事故 accident
[cháo liú] 潮流 trend
[pèi shì] 配饰 accessory
[zhuāng shì] 装饰 decoration
重点词汇 Key word:
不 <副词 adv.>
Not; no
E.g. Wǒ bù xiǎng qù。
我不想去。
I don't want to go.
No matter (what, how, ect)
E.g. Xìn bùxìn yóu nǐ。
信不信由你。
Believe it or not.
Neither...nor...
E.g. Zhèjiàn chènshān wǒ chuān shàng bùdà bùxiǎo zhèng héshì。
这件衬衫我穿上不大不小正合适。
The shirt fits me perfectly.
(a negative response to a question) no
E.g. [Tā shì xuéshēng ma?] 他是学生吗? Is he a student?
[Bù,tā bùshì。] 不,他不是。No, he isn't.
Can not
E.g. Tā shénme shì dōu zuò bù hǎo。
她什么事都做不好。
She cannot do nothing right.
(used between the same verbs or adjectives to form a question to be answer with "Yes" or "No")
E.g. Wǒ piàoliang bù piàoliang?
我漂亮不漂亮?
Am I beautiful?