At a kindergarten in Xingtai, North China's Hebei province, a girl tries to stand an egg upright to mark spring equinox(春分), the fourth solar term(节气) of the year, which starts March 21 this year. The egg-standing game is an old(古老的) custom(风俗) that can be dated back to 4,000 years ago. People practice this tradition(传统) to celebrate(庆祝) the coming(到来) of spring. It is believed(认为) that if someone can make the egg stand(直立), the person will have good luck(好运) in the future.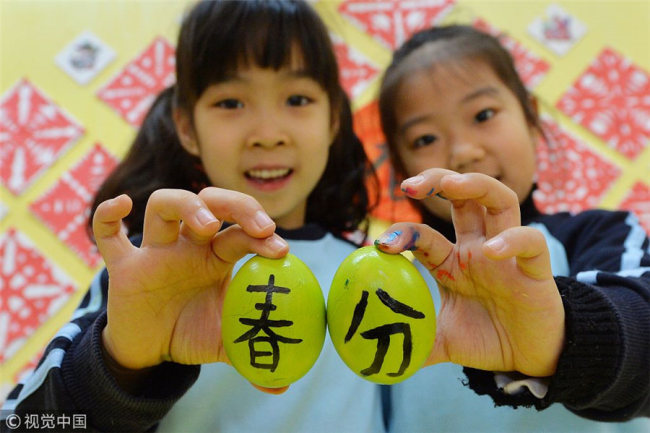 Two girls show eggs decorated with the Chinese characters for "spring" (left) and "equinox" in Qingdao, East China's Shandong province, March 20, 2018.
词汇 Words:
[fēng sú] 风俗 custom
[dào lái] 到来 coming
[chuán tǒng] 传统 tradition
[qìng zhù] 庆祝 celebrate
[rèn wéi] 认为 believe
[zhí lì] 直立 stand
重点词汇 Key word:
立
<动词 v.> stand
E.g. Rén hěnkuài jiù zuò mǎn le,bùjiǔ jiù zhǐ shèngxià zhànlì de wèizhì le。
人很快就坐满了,不久就只剩下站立的位置了。
The place quickly fills up so it's soon standing room only.
<动词 v.> set up; establish; found
E.g. Jìrán lì le fǎ,jiù yīnggāi yángé zhíxíng。
既然立了法,就应该严格执行。
once the law has been made, it should be strictly enforced.
<动词 v.> draw up; formulate
E.g. Zhèshì shuí lì de guījǔ?
这是谁立的规矩?
Whose rule is this?
<动词 v.> exist; live
E.g. Wǒ jìngpèi tā de dúlì jīngshén hé yǒngqì。
我敬佩她的独立精神和勇气。
I admired her independence and her spunk.
<副词 adv.> immediately
E.g. Yī yǒu jiéguǒ wǒmen lìjí tōngzhī nǐ。
一有结果我们立即通知你。
We shall inform you of the results without the least delay.