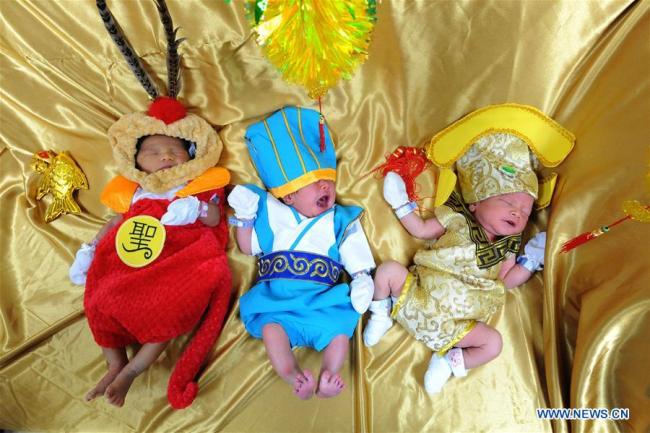 Newborn(新出生的) babies(宝宝) are dressed(穿) in traditional Chinese clothes(服装) for the theme(主题) of the Chinese Lunar New Year at a hospital in Bangkok, Thailand, Feb. 12, 2018. (Xinhua)
词汇 Words:
[bǎo bǎo] 宝宝 baby
[fú zhuāng] 服装 clothes
[zhǔ tí] 主题 theme
[hù shì] 护士 nurse
[zhào gù] 照顾 take care of
重点词汇 Key word:
宝
<名词 n.> treasure
E.g. Dà xióngmāo zài Zhōngguó bèi shìwéi guóbǎo。
大熊猫在中国被视为国宝。
The Giant panda is considered as a national treasure in China.
<形容词 adj.> precious; treasured
E.g. Wǒ shēnzhī shíjiān duìyú nín zhèyàng de mángrén shífēn bǎoguì。
我深知时间对于您这样的忙人十分宝贵。
I clearly understood the value of time to a busy person like you.
<名词 n.> (pet name for a child) baby; darling
E.g. Mǔqīn ràng wǒ xiāngxìn xīn chūshēng de bǎobǎo shì gěi wǒde yīgè lǐwù。
母亲让我相信新出生的宝宝是给我的一个礼物。
Mother had led me to believe the new baby was a kind of present for me.