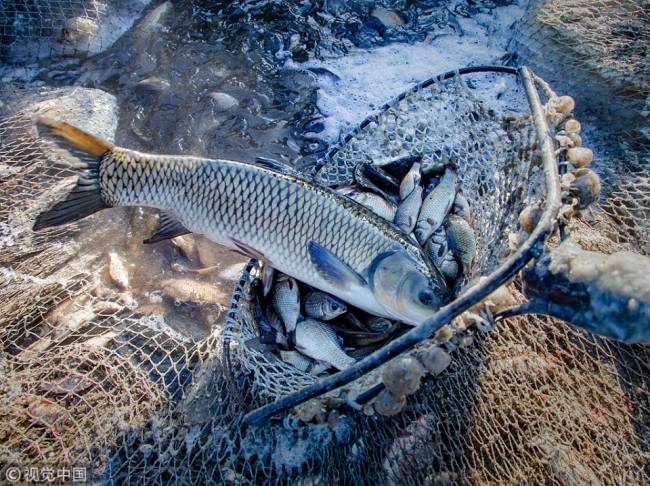 The fishing season of Yaolin Lake(腰玲湖) is underway(进行中), wher fishermen(渔民) catch(捕捉) an average(平均) of about(大约) 300,000 kg of fish annually(年度).
Located in northeastern Heilongjiang Province, local fisherman work hard on the icy lake to meet(满足) the growing demand(增长的需要) for fresh fish(淡水鱼) that can be sold for good prices(价格).
词汇 Words:
[nián dù] 年度 annually
[jìn xíng zhōng] 进行中 underway
[dà yuē] 大约 about
[píng jūn] 平均 average
[mǎn zú] 满足 meet
[yú mín] 渔民 fisherman
[dàn shuǐ yú] 淡水鱼 fresh fish
[jià gé] 价格 price
[xū yào] 需要 demand
重点词汇 Key word:
拉开
<动词 v.> pull open; draw back
E.g. Qīngchén de yángguāng tòuguò lākāi de chuānglián zhàoshè jìnlái。
清晨的阳光透过拉开的窗帘照射进来。
Morning sunshine flooded in through the open curtains.
<动词 v.> increase the distance between; space out
E.g. Wǒmen yīqǐ pǎo,dàn tā hěnkuài jiù hé wǒ lākāi le jùlí。
我们一起跑,但他很快就和我拉开了距离。
We started even, but he soon drew away from me.