Shanghai metro will allow QR code(二维码) payment(付款) in the whole(所有的) subway network from Jan. 20, the metro's operator Shanghai Shentong Metro Group announced Tuesday.
With QR code readers being installed(安装) at all(全部的) the 389 metro stations, passengers can pay(支付) their tickets(票价) via Alipay or China unioPay simply by scanning(扫描) the QR code after downloading(下载) a mobile app, the company said.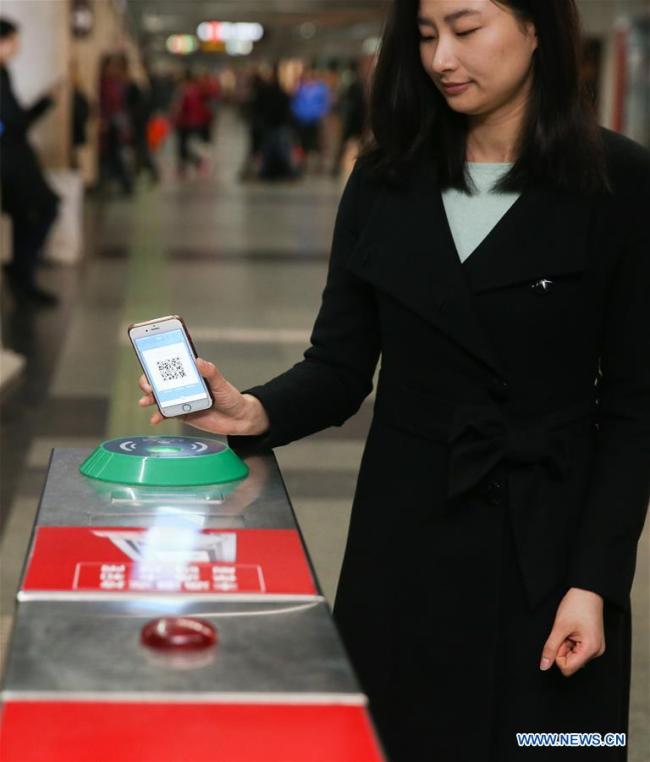 A passenger scans QR code at a metro station in east China's Shanghai, Jan. 16, 2018. Passengers can pay for their tickets via Alipay or China unioPay simply by scanning the QR code at the entrance and exit after downloading a mobile app called "Metro Daduhui(Metro大都会)". (Xinhua)
"QR codes have fundamentally changed people's daily life in China. It's the right time to roll out the new payment method, making riding the Shanghai metro more convenient," said Jin Tao, an executive with Shanghai metro information management center.
Jin told Xinhua that unlike traditional online payment, the Shanghai metro has adopted innovative technology that can function without Internet connection, taking only half a second to pass through the turnstile.
To encourage passengers to try the new payment method, the Shanghai metro will offer discounts(折扣) on fares(费用) between Jan. 20 and Feb. 28.
Currently, Shanghai has the world's longest metro network of 666 kilometers. Before spreading the QR payment service to all lines, Shanghai piloted it at two stations on the maglev line last October.
词汇 Words:
[suǒ yǒu de] 所有的 whole
[quán bù de] 全部的 all
[èr wéi mǎ] 二维码 QR code
[fù kuǎn] 付款 payment
[piào jià] 票价 ticket
[zhé kòu] 折扣 discount
[fèi yòng] 费用 fare
[ān zhuāng] 安装 install
[zhī fù] 支付 pay
[sǎo miáo] 扫描 scan
重点词汇 Key word:
刷
<名词 n.> brush
E.g. Wǒmen gěi le tā yóuqī hé jǐ bǎ shuāzi。
我们给了他油漆和几把刷子。
We gave him paint and brushes.
<动词 v.> paint; paste up
E.g. Qiánmén xūyào shuā yīcéng xīn qī le。
前门需要刷一层新漆了。
The front door needs a new coat of paint.
<动词 v.> clean with a brush; scrub
E.g. Zǎowǎn shuāyá yīcì。
早晚刷牙一次。
Bush your teeth both in the morning and in the evening.