The first World Ice Dragon Boat Championships(世界冰上龙舟锦标赛) is scheduled(计划) from January 9 to 12 in north China's Inner Mongolia Autonomous Region, organizers said on Wednesday.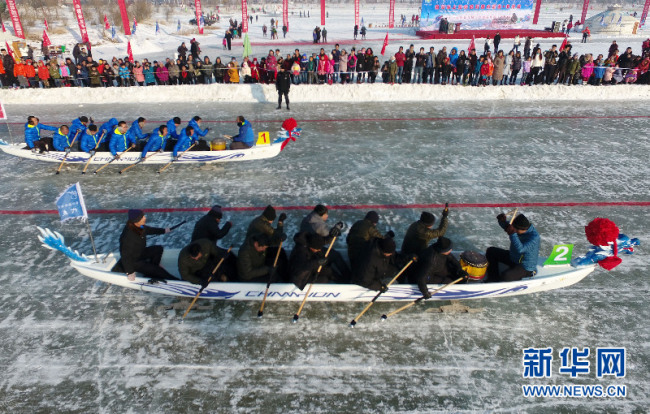 Nearly 100 participants will compete(比赛) in a dragon boat race held on ice in the Duolun Lake(多伦湖), Xilingol League(锡林郭勒), Inner Mongolia, said Lou Zhongyi, president of the International Ice Dragon Boat Federation.
The events will include(包括) 12-men and 5-men ice dragon boat races(竞赛), both 100-meter and 200-meter, Lou said.
The ice adaptation(改编) of dragon boat racing is part of programs to boost(促进) winter sporting items(项目) and local tourism.
The events are sponsored by the International Ice Dragon Boat Federation and organized by the Duolun county government.
词汇 Words:
[jì huà] 计划 schedule
[bǐ sài] 比赛 compete
[bāo kuò] 包括 include
[cù jìn] 促进 boost
[gǎi biān] 改编 adaptation
[xiàng mù] 项目 item
重点词汇 Key word:
计划
<名词 n.> plan; programme; scheme; project; design
E.g. Tā de xīn jìhuà shǐzhōng wèi néng shíxíng。
她的新计划始终未能实行。
His plan never got to the first base.
<动词 v.> plan; map out; scheme
E.g. Běn zhōu jìhuà zài jǔxíng jǐcì huìtán。
本周计划再举行几次会谈。
More talks are scheduled for this week.