Chinese newlyweds pose for wedding photos(婚纱照) dangling(悬挂) from a cliff(悬崖) at the Chaya Mountain(嵖岈山) scenic spot in the city of Zhumadian(驻马店), central China's Henan Province, on Saturday. The scenic spot is famous(出名的) for scenes shot there for popular TV series(电视连续剧) "Journey to the West(西游记)" adapted(改编) from the classic novel(小说) of the same title(同名). Staff dressed as iconic characters in the TV series, offering blessings(祝福) to the young couple.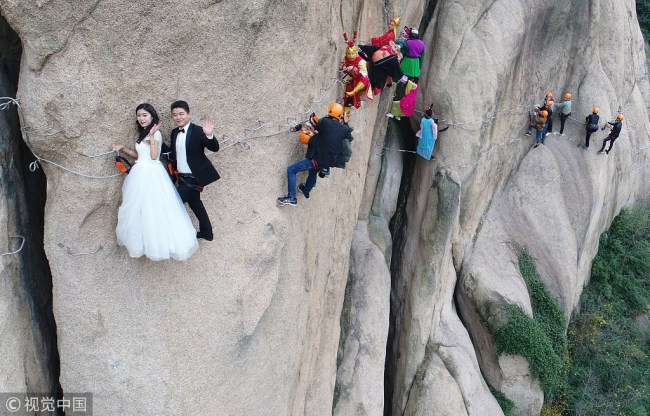 词汇 Words:
[xuán guà] 悬挂 dangle
[xuán yá] 悬崖 cliff
[xiǎo shuō] 小说 novel
[zhù fú] 祝福 blessing
[gǎi biān] 改编 adapt
[diàn shì lián xù jù] 电视连续剧 TV series
[chū míng de] 出名的 famous
重点词汇 Key word:
悬
<动词 v.> hang; suspend
E.g. Tā zhènghǎo xuánguà zài shānyá shàngfāng。
它正好悬挂在山崖上方。
It just hung over the cliff.
<形容词 adj.> unresolved; unsettled
E.g. Jìhuà réng xuánérwèijué。
计划仍悬而未决。
The plan still hangs in the air.
<形容词 adj.> feel anxious; be solicitous
E.g. Zhè wèi zuòjiā dǎsuàn bǎ xuánniàn yīzhí bǎoliú dào zuìhòu。
这位作家打算把悬念一直保留到最后。
The author's intention is to keep everyone guessing until the end.