Good flexibility! A series of photos that show the stretching(拉伸) ability(能力) of college students shared(分享) on Chinese social media(社交媒体) has gone viral(走红) on Tuesday. The photos showed they did the 'splits(劈叉)' and practiced(练习) Yoga(瑜伽) in their dormitory(宿舍) at the Huanghe Institute of Science and Technology(黄河科技学院) in Zhengzhou(郑州), Henan Province.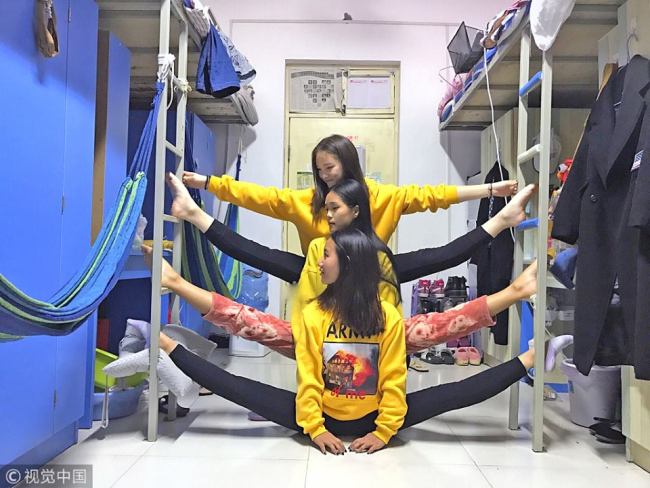 词汇 Words:
[zǒu hóng] 走红 go viral
[lā shēn] 拉伸 stretch
[néng lì] 能力 ability
[liàn xí] 练习 practice
[fēn xiǎng] 分享 share
[sù shè] 宿舍 dormitory
[pī chā] 劈叉 split
重点词汇 Key word:
红
<形容词 adj.> red
E.g. Tā mǒ le hóngsè chúngāo。
她抹了红色唇膏。
She was wearing red lipstick.
<形容词 adj.> of success or popularity
E.g. Tā yīn yī bù yǐngpiàn ér zǒuhóng。
他因一部影片而走红。
He hit the big time with a film.