Archaeologists(考古学家) recently(最近) found(发现) three 2,000-year-old luxury(豪华) baths(浴室) in northwest China's city of Xi'an(西安), the local heritage department said Monday.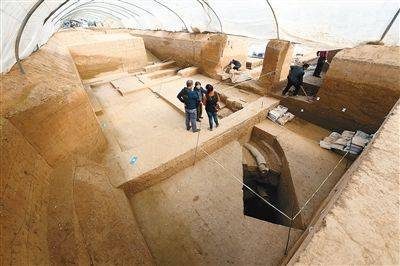 Three ancient city sites, dating back to different(不同的) dynasties(朝代), were discovered by a team at an archeological site at the ancient city of Liyang(栎阳城), according to Liu Rui, a researcher on the team.
Liyang, a former capital in the Qin and Han dynasties, is now located at Yanliang district(阎良区) of Xi'an, capital of Shaanxi Province.
Three baths and a fireplac(壁炉) have been excavated(发掘) at one site. The baths have been built with beautiful tiles(墙砖) and bricks(地砖), with sewage outflows(排水口).
"The shape(形状), structure(结构) and size(尺寸) of the baths were very similar to the baths in the imperial palace(宫殿) of Xianyang(咸阳), capital during the Qin Dynasty," Liu said. "These baths could be the earliest(最早的) baths discovered in China."
The 2013 excavation of ancient Liyang was conducted by the Chinese Academy of Social Sciences Institute of Archaeology and the city's cultural relics protection and archeology institute.
词汇 Words:
[fā xiàn] 发现 find
[fā jué] 发掘 excavate
[háo huá de] 豪华的 luxury
[yù shì] 浴室 bath
[bì lú] 壁炉 fireplace
[xíng zhuàng] 形状 shape
[jié gòu] 结构 structure
[chǐ cùn] 尺寸 size
重点词汇 Key word:
发现
<动词 v.> find; discover
E.g. Wǒ fāxiàn nǐ jīngcháng gēn nàgè nǚhái chūqù。
我发现你经常跟那个女孩出去。
I've noticed that you often go out with that girl.
<名词 n.> findings; discovery
E.g. Cuòwù yī jīng fāxiàn,jiù yīng gǎizhèng。
错误一经发现,就应改正。
Mistakes should be corrected upon detection.