A nearly 1,400-year-old ginkgo tree(银杏树) in Xi'an(西安) has become(成为) so popular(受欢迎的) online that the temple(寺庙) which is home to the tree has been forced(被迫) to create an app-based reservation system, limiting(限制) tickets to 7,200 visitors(参观者) a day, to ensure(确保) the safety(安全) of the tree, the visitors and protect(保护) the temple itself.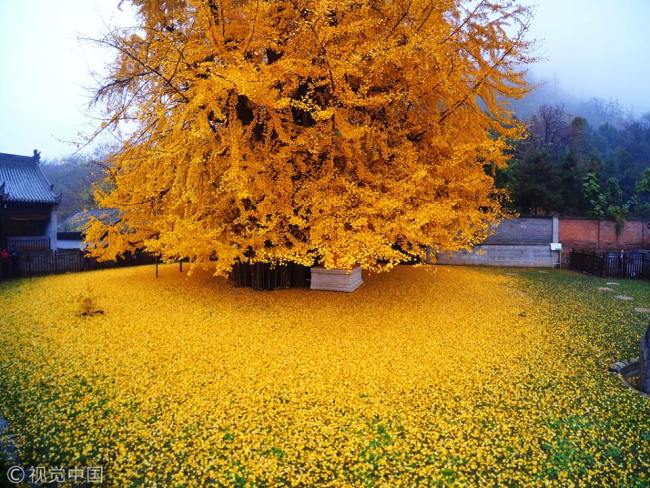 The tree, reputed to have been planted(种植) by Tang Dynasty(唐朝) Emperor(皇帝) Li Shimin, is located in the Zen Buddhist Temple(观音禅寺), built during his reign(统治) which lasted(持续) between 629 and 649 C.E.
A series of photos taken of the tree after a rainfall(雨后) in 2016 saw the temple attract an estimated(估计) 70,000 visitors in one day.
词汇 Words:
[shòu huān yíng de] 受欢迎的 popular
[chéng wéi] 成为 become
[bèi pò] 被迫 force
[xiàn zhì] 限制 limit
[bǎo hù] 保护 protect
[zhòng zhí] 种植 plant
[chí xù] 持续 last
重点词汇 Key word:
成
<动词 v.> succeed; accomplish; complete
E.g. Tā shì gè néng chéng dàshì de rén。
他是个能成大事的人。
He will be a success.
<动词 v.> grow; develop
E.g. Xíngdòng de shíjī shàngwèi chéngshú。
行动的时机尚未成熟。
The time is not yet ripe for action.
<名词 n.> achievement; accomplishment
E.g. Gāi yánjiū yǐjīng qǔdé fēngshuò de chéngguǒ。
该研究已经取得丰硕的成果。
That study project has already yielded rich results.
<动词 v.> become; turn/change into
E.g. Tā huì chéngwéi yīgè hǎo qīzi。
她会成为一个好妻子。
She would make a good wife.
<动词 v.> be all right; be OK
E.g. Méiyǒu nǐ kě bù chéng。
没有你可不成。
We cannot do it without you.