The Hukou waterfall(瀑布) located along the border(边界) between the provinces of Shanxi(山西) and Shaanxi(陕西) has reached its maximum peak(峰值) due to heavy rainfall(降雨).
壶口瀑布进入最佳观赏期 Best time of year to visit Hukou Waterfall!
The width(宽度) of the waterfall changes due to fluctuating(波动) temperatures(温度) and rainfall. The landscape and raw power of the falls draws thousands of tourists to the site. The administration of the Hukou Waterfall are preparing for a massive(大规模的) increase(增长) in tourism numbers during the forthcoming(临近的) National Day holiday.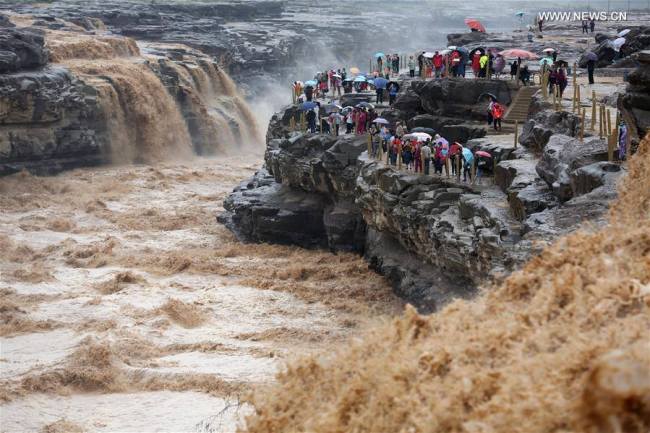 词汇 Words:
[pù bù] 瀑布 waterfall
[biān jiè] 边界 border
[fēng zhí] 峰值 peak
[jiàng yǔ] 降雨 rainfall
[kuān dù] 宽度 width
[wēn dù] 温度 temperature
[bō dòng] 波动 fluctuating
[dà guī mó de] 大规模的 massive
[zēng zhǎng] 增长 increase
重点词汇 Key word:
期:
<名词 n.> scheduled/specified time
E.g. Qiān zhèng xià yuè dào qī。
签证下月到期。
The visa expires next month.
<名词 n.> period of time; stage; phase
E.g. Guó qìng jiē jià qī tā men tōng cháng dōu huì qù tú bù lǚ xíng。
国庆节假期他们通常都会去徒步旅行。
They usually have a walking holiday at the National Day.
<量词 measure word> (for things scheduled by periods)issue; session
E.g. Zhè běn zá zhì liǎng zhōu chū yì qī。
这本杂志两周出一期。
The magazine appears fortnightly.
<动词 v.> expect; anticipate
E.g. Qī dài nǐ zǎo rì dá fù。
期待你早日答复。
Looking forward to your early reply.