Zhu Boming, a 73-year-old retired handyman, decided to open a toy hospital three years ago after spending a few years helping people repair(修理 xiūlǐ) their beloved plush toys. He has special techniques to fix broken(坏掉的 huài diào de) or old(旧的 jiù de) toys. Zhu Boming is a specialist "doctor(医生 yīshēng)" with skills to fix broken legs, smudgy skins or missing parts of the beloved toys.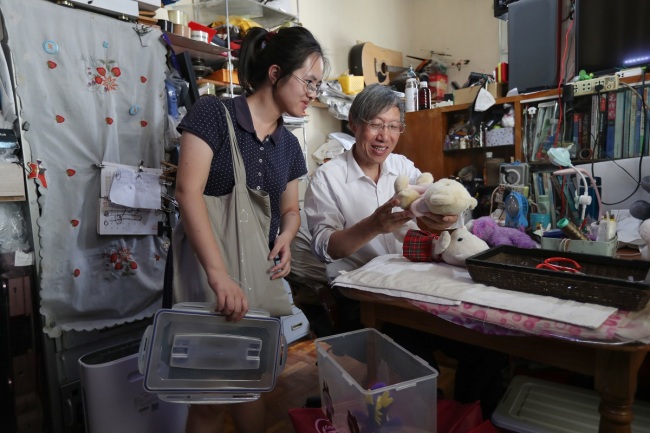 This undated photo shows Zhu Boming checking(检查 jiǎnchá) a toy(玩具 wánjù) at the toy hospital in Shanghai. [Photo: IC]
Every toy that has passed through Zhu Boming's skillful hands has an unforgettable story. Zhu Boming believes that he is not only repairing a toy, but he's also comforting(安慰 ānwèi) the owner's heart. He also found that every repaired toy has a real life which is given by its owner.
重点词汇 Key word:
修理 <动词 v.>
repair; mend; fix
Zhè shuāng xié xūyào xiūlǐ.
这双鞋需要修理。
The shoes need mending.
<dialect> punish
Tā bàba bǎ tā xiūlǐ le yī dùn.
他爸爸把他修理了一顿。
His father meted out a punishment on him.