The Academy of Motion Picture Arts and Sciences (AMPAS) announced on Monday that 93 films from different(不同的 bùtóng de) countries(国家 guójiā) and regions(地区 dìqū) will compete for the Academy Award(奥斯卡奖 Àosīkǎ jiǎng) for Best International Feature Film(最佳国际电影) at the 92nd Academy Awards.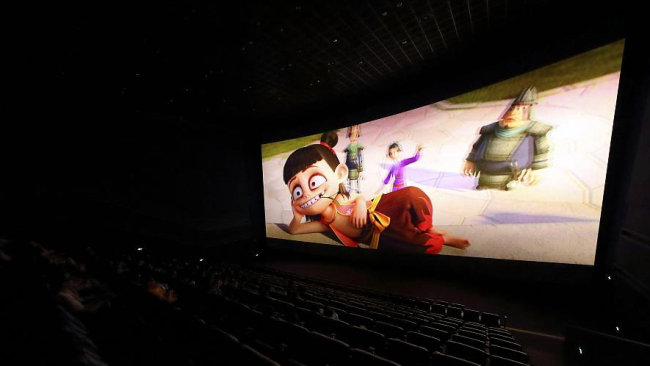 The academy changed its previous category Best Foreign Language Film award to Best International Feature Film in April to better reflect the international representation of the award.
The previous highest number of eligible films in the category was 92, in 2017. For the first time this year, films from Ghana, Nigeria, and Uzbekistan were considered.
According to a statement from the academy, Chinese director Yang Yu's animated film(动画片 dònghuàpiàn) "Ne Zha(《哪吒 Nézhā》)" will participate on behalf of the Chinese mainland, wher it has grossed more than 4.9 billion yuan.
China's Hong Kong Special Administrative Region (HKSAR) submitted the action movie(动作片 dòngzuòpiàn) "The White Storm 2 - Drug Lords《扫毒2天地对决》," while China's Taiwan submitted the romantic comedy(爱情喜剧片 àiqíng xǐjù piàn) "Dear Ex《谁先爱上他的》."
The three Chinese-language films will compete with the South Korean film "Parasite," the Spanish film "Pain and Glory," the Japanese film "Weathering With You," the British film "The Boy Who Harnessed The Wind," and the Norwegian film "Out Stealing Horses."
The 92nd Academy Awards will be presented at the Dolby Theatre in Hollywood on February 9 next year.
重点词汇 Key word:
角逐 <动词 v.> compete; contest
E.g. Wǒmen míngtiān jiāng yǔ duìshǒu zhǎnkāi juézhú.
我们明天将与对手展开角逐。
We will carry on the contest against our opponents tomorrow.
Zhè bù diànyǐng zài juézhú zuì jiā yǐngpiàn tímíng shí miànlínzhe jīliè de jìngzhēng.
这部电影在角逐最佳影片提名时面临着激烈的竞争。
The film faces stiff competition for the Best Film nomination.