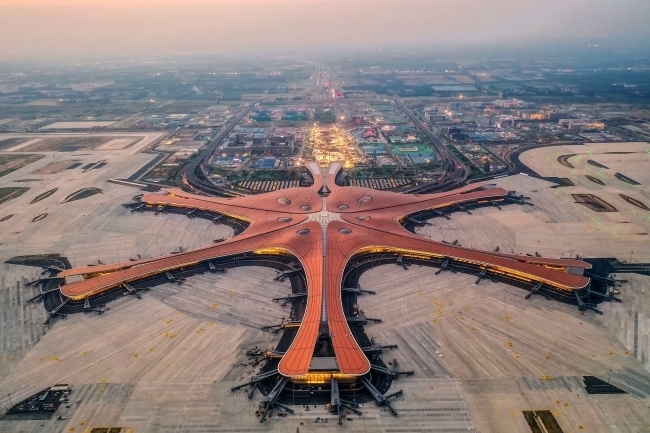 An aerial view of the Beijing Daxing International Airport on May 29, 2019. [File Photo: VCG]
Beijing's new mega-airport opens on Wednesday, welcoming its first passengers after five years of construction(建设 jiànshè).
As Beijing's second international airport(机场 jīchǎng), Daxing Airport is expected to work with Beijing Capital International Airport to meet the capital's rising demand(需求 xūqiú) for air travel and help balance(平衡 pínghéng) development(发展 fāzhǎn) in Beijing's southern and northern areas. The new airport is expected to become north China's air travel hub. The airport will have the capacity to handle about 45 million passengers annually by 2021, and 72 million by 2025.
Chinese President Xi Jinping attended(出席 chūxí) the operation ceremony(仪式 yíshì) of the airport on Wednesday morning.
重点词汇 Key word:
正式 <形容词 adj.> formal; regular; official
E.g.Tā xiěle yī fēng zhèngshì de dàoqiàn xìn.
她写了一封正式的道歉信。
She wrote a formal apology.
Nà jiā gōngsī zhèngshì huí yìngle wǒmen de yāoqiú.
那家公司正式回应了我们的要求。
That company official responded to our request.