A group of models(模特 mótè) present a design inspired by ancient Chengdu wear at the fashion show for the First Chengdu University Student Fashion Week on May 25, 2019. [Photo: Xinhua]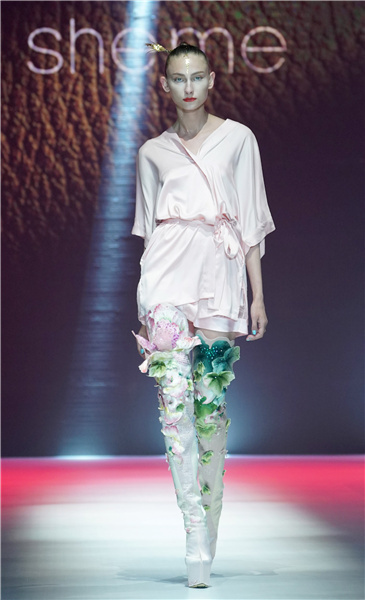 The First Chengdu University Student Fashion Week kicked off last Saturday. Centering on the styles of Chengdu costume(服饰 fúshì) from different eras(时代 shídài), students at 28 universities around the world presented their idea of Chinese culture through fabric(布料 bùliào) and design(设计 shèjì).
Winners of the New Designer Award will be announced at the end of the week. Over a hundred enterprises(企业 qǐyè) will meet with student designers.
重点词汇 Key word:
首
<名词 n.> leader; head; chief
E.g. 100 gè guójiā de zhèngfǔ shǒunǎo míngrì jiāng qíjù Běijīng。
100个国家的政府首脑明日将齐聚北京。
Heads of government from more than 100 countries gather in Beijing tomorrow.
<名词 n.> beginning
E.g. Zhuāngxiū shǒuwěi huā le yī gè duō yuè。
装修首尾花了一个多月。
The decoration lasted more than a month.
<数词 numeral> first
E.g. Tā shǐzhōng bǎ shìyè fàngzài shǒuwèi.
他始终把事业放在首位。
He always put his career first.
<形容词 adj.> highest; supreme
E.g. Běijīng shì Zhōngguó de shǒudū.
北京是中国的首都。
Beijing is capital of China.
<量词 measure word> [for poems or songs]
E.g. Zhèshì wǒ yǒushǐ yǐlái zuì xǐài de yī shǒu gē.
这是我有史以来最喜爱的一首歌。
This is my favourite song of all time.