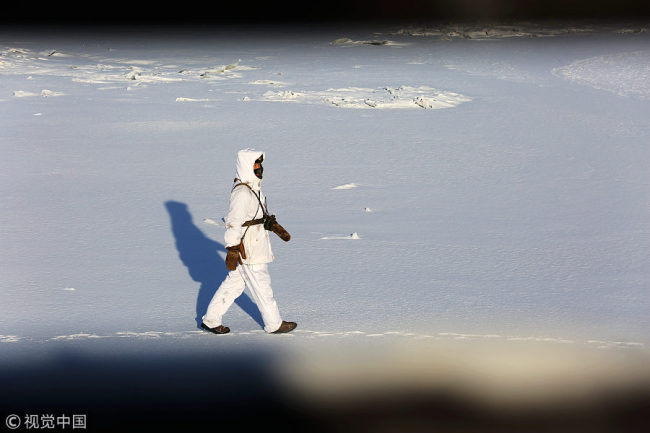 A soldier patrols(巡逻) at the border(边界) with Russia in Heihe(黑河), Northeast China's Heilongjiang province, wher the temperature(气温) fell(下降) to -33 C on Dec 10, 2017.
The frontier(边境) force patrols every day, despite(尽管) the extremes(极端) of heavy snow(大雪) and freezing wind(寒风).
词汇 Words:
[biān jiè] 边界 border
[biān jìng] 边境 frontier
[qì wēn] 气温 temperature
[jí duān] 极端 extreme
[xún luó] 巡逻 patrol
[xià jiàng] 下降 fall
重点词汇 Key word:
边
<名词 n.> edge; side
E.g. Nà jiā fàndiàn zài hǎibiān。
那家饭店在海边。
The hotel is on the coast.
<名词 n.> party; side
E.g. Zhè jiàn shì shàng,wǒ zhàn zài nǐ zhèbiān。
这件事上,我站在你这边。
I am one your side in this issue.
<名词 n.> bound; limit
E.g. Zhè huà kě tài méi biān le。
这话可太没边了。
That's absurd.
<副词 adv.> meanwhile; at the same time
E.g. Biān hēchá biān liáotiān。
边乘车边看书会伤眼睛的。
It's harmful to your eyes if you read a book while you are riding in a bus.
<名词 n.> border; frontier
E.g. Zhè zuò shān héngkuà liǎngguó biānjìng。
这座山横跨两国边境。
The mountain straddles the frontier between the two cities.
<名词 n.> side; section (of a geometrical figure)
E.g. Sānjiǎoxíng yǒu sān tiáo biān。
三角形有三条边。
A triangle has three sides.