These "Iron Men," standing several meters tall(高), are produced(制作) from discarded(废弃的) motorcycles, auto spare parts, gas tanks(油箱) and scrap iron(废铁).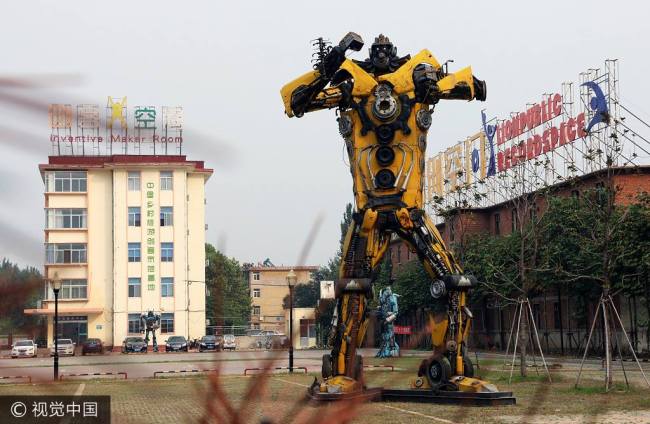 The creator of these amazing metal(金属) works(作品) is retired(退休的) technician(技师) Liu Konghua who lives in Zoucheng(邹城), Shandong Province. Without any pre-design, the talented retiree has drawn his artistic inspiration(灵感) from the scrap(废料) he collected, transforming(改造) abandoned exhaust pipes(管子) into the "Iron Men's" muscles(肌肉) and old vehicle wheels(轮胎) into joints(关节).
词汇 Words:
[zhì zuò] 制作 produce
[fèi qì] 废弃 discard
[gǎi zào] 改造 transform
[yóu xiāng] 油箱 gas tank
[tiě] 铁 iron
[jīn shǔ] 金属 metal
[zuò pǐn] 作品 works
[líng gǎn] 灵感 inspiration
[fèi liào] 废料 scrap
[guǎn zi] 管子 pipe
[lún tāi] 轮胎 wheel
[jī ròu] 肌肉 muscle
[guān jié] 关节 joint
重点词汇 Key word:
变
<动词 v.> become different; change; transform
E.g. Tiān qì biàn lěng le。
天气变冷了。
It's getting cold.
<形容词 adj.> changeable; changed
E.g. Qián tú chōng mǎn le biàn shù。
前途充满了变数。
The future is subject to various uncertainties.