莫言:我的奖金不来自纳税人 没义务承担更多社会责任
Mo Yan: No Obligations for Me to Shoulder More Social Responsibilities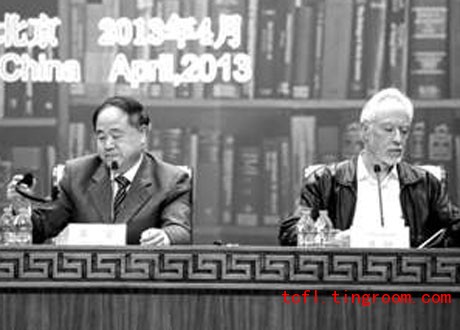 "今后大家最好不要邀请我,多么光彩的事我都不参加。第一不要邀请我,第二不要到我老家去,大家各干各的,我用我的新作回报你。"在获得诺奖后莫言似乎不胜各种打扰,昨日在第二届中国-澳大利亚文学论坛上,莫言在与2003年诺奖得主库切对话的场合说出这样一番话。
When attending the Second Literature Forum on Sino-Australian Literature held yesterday, Nobel Prize winner Mo Yan said, "From now on you'd better not invite me to any activities. Firstly, don't invite me; secondly, don't go to my hometown. We all mind our own business. I'll reward you with the new piece of work." It seems that Yan is weary of all the attention after receiving the Nobel Prize for Literature.
莫言是在和库切各自发表了20分钟的主题演讲后回答现场提问时说出的这样一番话,他说获奖后自己频繁出现在各种活动上,但这已经是他将大部分邀请拒绝后的结果。"有10次邀请我顶多答应1次,人经常处在身不由己中,我也不愿意来今天的活动,这个题目我也不想谈。但是不讲我愧对澳洲同行,对不起今天到场的人。"
After Yan and John Maxwell Coetzee, the 2003 Nobel Prize for Literature winner, each delivered a twenty minute speech, Yan said, he often appeared in different kinds of activities, and his appearance at the event came about after he turned town many other invitations.
"I accept at most one out of 10 invitations and often not of my own accord. I would not like to participate in today's activity. I do not like to talk about the topic (social responsibility). But I would let my Australian counterpart and readers down if I do not speak about it."
莫言还说:"获奖之后,亲戚朋友找工作打官司的都来找我,还有素不相识的人登门找我借钱,想买房子治病。也有人希望我发言,借此改变社会弊端。如果我帮了你的儿女,不就是挤掉别人儿女的机会,我如果处处发声,处处摆出诺奖得主的嘴脸,我自己也会害臊。写作也是发声,文章改变不了的现实,说话就能改变?获得诺奖后该不该承担更多社会责任?在法理上我没改变自己的公民身份,我的奖金不是从纳税人那里来的,我也没有这样的义务。"
Mo added, "After I received the award, relatives and friends come to me for all sorts of help from asking me to help find jobs or being engaged in a lawsuit. There're even some people that I do not know coming to my house and asking me to lend money to them to buy houses or curing diseases. Some people hope that I could deliver speeches in hope of changing social disadvantages. If I help your daughter, then opportunities of other people's daughters would be lost. If I go here and there, with a look of a Nobel Prize winner, I would be ashamed of myself. Writing is also a way of voicing my opinions, but it cannot change reality. Should I take more social responsibilities or not? My award bonus is not from tax payers and I have no obligations to shoulder social responsibilities."
莫言还说:"不管我配不配诺奖,我都已经获得了诺奖,是该回到书桌前写出好作品的时候了。据说2013诺贝尔文学奖提名已经结束。希望半年后新的得主出来时,就没人再理我了。"
Mo also said, "It's time for me to return to the front of the desk. It's said that the nominations for the 2013 Nobel Prize in Literature are finished. I hope no one will care about me in half a year after the new winner is named."