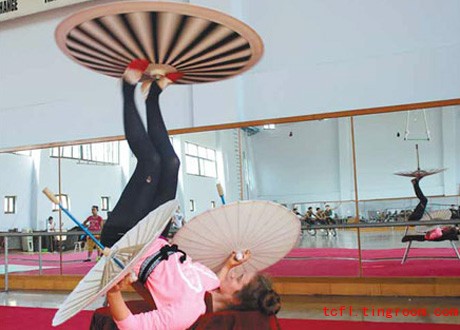 Emma Phillips has overcome major hurdles to realize her dream. She shows off her new skills juggling parasols at the Wuqiao Acrobatic School. [Photo: China Daily]
训练馆内,十几岁的孩子们身手敏捷,轻巧地翻飞,活力四溢,他们训练时发出的喊叫声回荡在整个房间内。喧闹声中,一位年轻的金发女郎正躺在长椅上,全神贯注地用双脚旋转着一顶阳伞。
There is a lot of energy in the large training hall, with the swift figures of teenage students flitting everywher. Their yells as they train fill the room. Amid the noise, a young brunette is lying on her back on a bench, totally focused on juggling a parasol with her feet.
这里便是河北省吴桥杂技学校。
This is the circus school in Wuqiao, a rural city in Hebei province.
23岁的艾玛?菲利普斯来自新西兰北岛,在最近一对芬兰夫妇到来前,她一直是学校里唯一的外国人。她也是学校里唯一的成年人,吴桥杂技学校大部分的学生从6岁开始训练,最大的年仅17岁。
Emma Phillips, 23, is from a city on the north island of New Zealand, and she was the only foreigner in the school until the recent arrival of a Finnish couple. She was also the only adult in a school wher most of the students start training at the age of 6.The oldest was only 17.
"学校里的人们和镇上的居民都对我感到很好奇,他们不知道为什么一个外国人要大老远地跑到乡下的县城来学杂技,但我知道自己想要什么,而且我会坚持下去。"她说道。
"People from the school and residents in town are curious about me, wondering why a foreigner will come all the way to a rural county and learn acrobatics. But I know what I want and I'll keep at it," she says.
"我想将东方的技巧和西方的音乐融合起来,为观众表演一个故事。"
"I will put the Oriental skills to Western music, and perform with a story for my audience."
艾玛?菲利普斯2012年来到中国,她已经在吴桥杂技艺术学校训练了5个月。她坐了很长时机的飞机来到中国,但她已经适应了长距离的旅行——正如她为实现童年的杂技梦想所走过的艰苦道路一样。
She came to China in 2012, and has already been training hard for five months at the Wuqiao Acrobatic Art School in the small town famous for its circus arts in Hebei. Her flight to China took a long time, but she is used to long journeys - like the hard road she traveled to realize her childhood dream of becoming an acrobat.
菲利普斯13岁时,观看了来家乡巡演的马戏团的演出。
Phillips was 13 when she saw a performance by a circus troupe visiting her hometown.
"当我看到演员们表演的令人惊讶的柔身术时,我觉得这棒极了!"她回忆道,双眼流露出别样的光彩,尽管这已经是十年前的事情了。
"When I saw the amazing contortions by the performers, I thought it was fascinating," she recalls, her eyes shining from the memory even though it's been a decade since then.
她之前练习爵士舞、卡巴莱和芭蕾舞,随后由舞蹈转向杂技,并且立志成为一名杂技演员。
She made the change from dancing - jazz, cabaret and ballet - and was determined to become an acrobat.
在她的家乡旺阿雷,孩子们大多将杂技作为课外活动,而不是终身的志愿。菲利普斯没有气馁,而是借助网上的视频帮助自己练习。
In Whangarei, wher Phillips comes from, children took up acrobatics more as an extra-curricular activity, rather than a full-time pursuit. Phillips was not daunted, and turned to videos on the Internet to help her train.
菲利普斯17岁从中学毕业后,进了当地一所杂技学校学习了两年,但学校并未给她带来想要的东西。
After she graduated from high school at 17, she enrolled in a local circus school for two years. Even so, it did not offer what she wanted.
学校的课程包括舞蹈、戏剧和表演,但菲利普斯想学到更多的东西,因此她决定毕业后继续学习更多的杂技技巧。
The school gave the students lessons on dance, theater and performance, but Phillips had expected more. She decided to further her skills after graduation.
她听说了中国的杂技学校,2010年决定亲自来看一看,周游了数月。2012年5月,她回到了北京,最终在杂技的发源地——中国,开始准备训练。
She heard about the circus schools in China and decided to see for herself in 2010, traveling around for months. She returned to Beijing in May 2012, and then started preparing to train, finally, in the country wher acrobatics had its origins.
起初,她进入了一所北京的杂技学校训练,并且结交了许多志趣相投的异国好友。但她想要的更多,所以便来到了吴桥杂技学校。
She first attended a circus school in Beijing, wher she made many friends from abroad, all sharing the same vision. But she wanted more, and so she enrolled in the school in Wuqiao.
"训练很辛苦,我筋疲力尽,但是很开心。"在短暂的训练间隙,她在宿舍对记者说道。
"The training is really hard. I am exhausted but happy," she says in her dormitory during a short break.
教练每天指导她训练5个小时,一周6天,有时晚上还要加练3个小时。这样紧张的课程安排将持续到12月底。
The instructor coaches her five hours a day, six days a week. Sometimes she will continue her training for another three hours at night. This tight schedule will last until the end of December.
菲利普斯已经练坏了6把中国阳伞,现在她正在练习更高难度的动作——用双脚旋转一张一米见方的桌子——这一动作在中国之外很少有人能表演。
Phillips has already worn out six Chinese parasols, and now she is moving on to something even harder - juggling a 1-square-meter table, an act that is seldom performed outside China.
训练的时间长,强度大,菲利普斯经常受伤,但对家人和朋友的思念更使她倍感折磨,她已经有一年时间没有回家了。
Often bruised or in pain from the long, intensive training, Phillips says what hurts her more is missing her friends and her family, whom she has not seen for a year.
"训练结束后,我会给他们打电话或是在网上聊天。"她看着家人和家乡的照片说道。除了对家乡的思念,菲利普斯还有许多困难需要克服。她只会说几个汉语词,而她的教练刘琳也不会说英语。
"I call them or chat online after training," she says, looking at photographs of her family, and the town wher she came from. There are other hurdles apart from her homesickness. Phillips cannot speak more than a few words of Chinese, and her coach, Liu Lin, does not speak English.
"最初的几个月里,我们之间的交流很困难,"刘琳说道,"然后我在手机上下载了一个翻译软件,所以现在我们能在肢体语言的帮助下顺利交谈了。"
"It was hard to communicate during the initial months," Liu says. "Then I downloaded a translation application on my cell phone, so now we can talk, helped by body language."
菲利普斯下了很大功夫学习汉语,现在她已经能说一些句子了。
Phillips has also made serious attempts to learn Mandarin and she can now master some sentences.
"我还想找一位汉语老师,这样我就能更加深入地了解杂技的传统和文化了。"她说道。
"I still want to have a Chinese teacher, so I can understand more about the traditions and culture of acrobatics," she says.
年龄也是一重障碍。
Age was also another barrier, Liu Lin says.
"与年纪更小的学生相比,艾玛能更好地吸收和理解训练的指导方针,但她却不具备身体方面的优势。"
"Compared to the younger students, Emma can absorb and understand the guidelines better, but physically, she does not have the advantage," Liu says.
然而,尽管面对重重挑战,菲利普斯依然坚信,有一天能够与中国的杂技团合作,进行全球巡演,将杂技、戏剧表演和舞蹈结合起来。
Yet despite all the challenges, Phillips is very committed to her dream of one day performing with a troupe in China, touring the world and combining circus, theater and dance.
"像艾玛这样的留学生很欣赏我们的训练课程,这已成为了中外教育交流的重要渠道,同时也是宣扬我国传统的绝佳渠道。"吴桥杂技艺术学校负责留学生管理的李清民说道。
"Foreign students like Emma appreciate our lessons very much. It has been an important channel of education exchange between China and other countries, and an excellent channel through which to spread our traditions," says Li Qingming, who is in charge of foreign student management at the school in Wuqiao.
他说20多名来自非洲的学生将于五月份抵达该校,并进行为期一年的训练。
He says more than 20 student from African countries will arrive in May to study for a year.
菲利普斯听到这样的消息很高兴。"很快我将交到更多的外国朋友,能跟他们交谈并一起训练实在是太棒了。"
Phillips is happy to hear the news. "I will have more foreign friends soon, and it will be nice to be able to talk to them, and train with them."

词汇:
杂技学校 circus school
唯一的外国人 the only foreigner
舞蹈 dance
戏剧 theater
表演 performance
下载 download
障碍 barrier