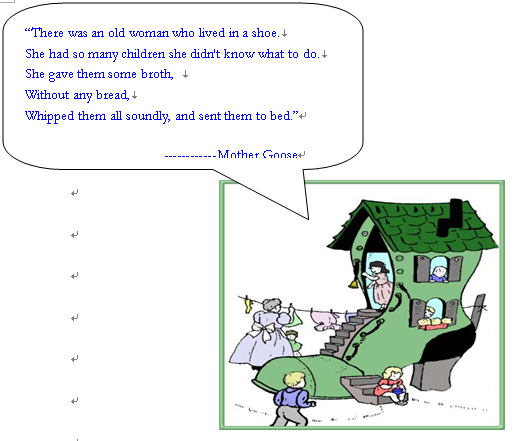 很多, 很多
你家有几个人?很多, 很多。
你有几个哥哥?很多,很多。
你有几个姐姐?很多,很多。
你有几个弟弟?很多,很多。
你有几个妹妹?很多,很多。
你有几个妈妈?很多,很…… 不对,一个。
她是谁啊?There was an old woman who lived in a shoe…

Culture tips
China has a large population. If a whole pizza represents the world population, a quarter of it will be the population in China. So China adopted the one-child policy about 25 years ago. Now in almost every family, there is only one child. That is why it is very unlikely that you will hear Chinese children say they have many brothers and sisters.

Follow Me
Step 1: Read the joke below

父:你学会数数了吗?
Father: Have you learned how to count?

子:学会了!   
Son: Yes, I have.

父:那你数一数书架上有几本书呢?
Father: Then, Can you count those books on the              shelf?

子:一、二、三……我知道了,有很多!
Son: One, two, three, … Oh, I know. There are so many!