The sale of extremely realistic "human skin" masks on Taobao, one of China's largest online markets, is a worrying development, with some fearing the masks could be used for nefarious purposes, the Ningbo-based Cnnb.com.cn reported.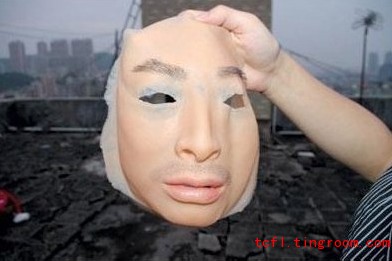 Miss Qiu, a Ningbo resident, said she went to a costume party where one of her friends wore a mask imitating Gollum, a character in the "Lord of the Rings," astonishing everyone. "The mask is thin and feels like real human skin, down to the texture and pores," she said.
Qiu searched for the item on Taobao, where she discovered a merchant offering to copy a person's face at the request of customers. She says such a product provides an opportunity for lawbreakers: "What if a murderer wearing a mask like my face commits a crime?"
Although the words "human skin mask" are forbidden by Taobao's search engine, reporters used similar results such as "high-imitation," "change face" and "human face" to find stores selling such masks. A video posted by one shop shows how the transformation of a young woman into old lady can be achieved in five minutes.
In addition to pre-made styles, with prices ranging from 1,000 yuan (US$166) to 10,000 yuan, custom-made masks can also be made, according to one store owner. "We only need a photo of the person and a 50 percent down payment," he said, adding that the masks are made of medical silicon, which is washable and harmless to people.
The seller didn't comment on registration procedures or the 12 transactions that have been made within half a year, according to its sales record.
The Beijing Morning Post said police in Anhui and Jiangsu provinces have busted gangs that have used such masks to commit crimes.