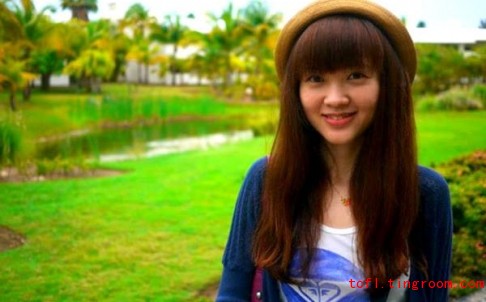 The tragic death on Tuesday of a 25-year-old mainlander who graduated from the University of Hong Kong has become an unlikely occasion for some of the city's ferocious online trolls to vent their anger against mainland immigrants, saddening her friends and colleagues.
Stephanie Liu Han, who graduated from HKU two years ago and worked in the city's financial industry, was hit by a truck on Saturday while crossing the street near Quarry Bay. She suffered serious brain damage and multiple fractures, and was taken to the Pamela Youde Nethersole Eastern Hospital.
There she received a craniotomy and follow-up surgeries, but remained in a coma until she passed away on Tuesday afternoon.
Liu's friends and HKU alumni had posted news of her accident on social media sites, such as Facebook and Weibo, updating her condition and expressing appreciation to those who expressed sympathy.
However, they were shocked to find that Liu's tragedy had also generated many abusive comments on other social media pages and on the local media websites, including Facebook, the popular local forum HKGolden.com and Apple Daily.
"What the Chinese people did in Hong Kong made every Hongkonger angry," said one post on a Facebook page called "Refusing the mainlandisation of Hong Kong", which had almost 9,000 followers, the day after Liu's accident.
"Hongkongers have lost their sympathy [for Liu], but they made us feel that way," said the post, which received 142 "likes" and 100 comments, most of which expressed negative feelings towards mainlanders.
"I can only say it is indeed a tragedy, but compassion can't make us ignore the fact that she came to Hong Kong to grab our education resources since she was not a permanent resident. Hope her family pays for the hospital fee; otherwise, it's not fair to us taxpayers," wrote "Sai Cheung", another participant in the discussion.
"Actually, she is really lucky. If this had happened in the mainland, she would be dead already. At least in Hong Kong, she will be taken to the ICU!", said a post under the name of "Rose Rosita", which received 24 "likes".
While a few commentators sought to express sympathy for the young woman, they were quickly mobbed by furious replies. "All those who hate have their reasons behind it," wrote one commentator.
Commentators also got into heated arguments under a news story on Liu's accident on the website of the Chinese language newspaper Apple Daily . Several hundred comments were left, featuring a mixture of angry rants and messages of encouragement to Liu.
"Truck driver, you've done a good job," one reader commented, who was rebuked by others who criticised the commentator for lack of compassiion.
In comparison, HKU100, an official Facebook page run by the University's Development and Alumni Affairs Office, received more than 160 comments, predominantly prayers and expressions of sympathy, to a post about Liu's accident.
One former colleague of Liu's at KPMG Hong Kong, who declined to be named, told the Post that Liu was a "beautiful and outgoing girl with lots of friends from Hong Kong, mainland China, and abroad."
"Of course, we are mad about those [negative] comments. We are shocked," said the former colleague, who joined KPMG with her in 2011. "But those can't be representative of mainstream thinking. I'd rather ignore them."
Zhao Lei, the founder of a popular Weibo community for mainlanders working in Hong Kong, said he was left speechless after reading some of the comments.
"They are a disgrace to humanity. We are talking about some universal values here: life, not just a random argument. It's ridiculous," said Zhao. And while the outrageous comments reflected some negative feelings in Hong Kong toward mainland migrants in recent years, he said, they represented only a tiny fraction of Hongkongers.
The online community offered to organise donations for Liu, but her family members declined the gesture, Zhao said.
In 2006, Liu enrolled at the University of Hong Kong on a full scholarship as one of the top students from Yunnan Province. She had recently started a new job at Ernest & Young in Hong Kong.