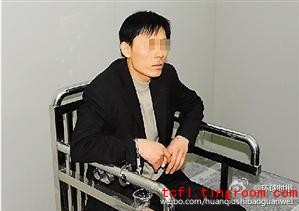 A MAN being tried in the killings of his wife, son and daughter within a five-day period confessed to their deaths and stuffing the bodies in a freezer, at the trial held yesterday in southern city of Shenzhen, the court heard.
Prosecutors said Yang Fei, 39, quarreled with his wife, surnamed Liang, at his rental house in Shenzhen at 11pm on February 13. In a great rage, Yang tied Liang's hands with one of the belts of her pajamas and strangled her to death with the other belt.
Two days later, he killed his eight-year-old son in similar way after the boy contradicted what he said. At around 10pm that night, he put the two bodies inside the freezer, which he had bought on February 14 at a department store, accompanied by his 12-year-old daughter, Guangzhou Daily reported today.
At around 8pm on February 17, Yang stuffed a towel in the girl's mouth and bound her hands with ropes. He raped his daughter and then strangled her to death. The body was also kept in the freezer, prosecutors said.
On February 19, Liang's brother reported his sister missing to police. Just 13 hours later, police caught Yang at his hometown in Gaozhou City in Guangdong Province.
The court didn't disclose details about the trial.
It was reported that Yang grew eccentric and unsociable after his parents divorced when he was very young. His mother remarried and moved to another place and he lived with his father, but his stepmother's children often bullied him.
After he married Liang, a fellow villager, they didn't live together. Liang worked in Dongguan City and Yang worked in Shenzhen. They had quarreled about the children's education — Yang complained that Liang did a poor job of teaching the children and he developed a hatred for her, the newspaper reported.