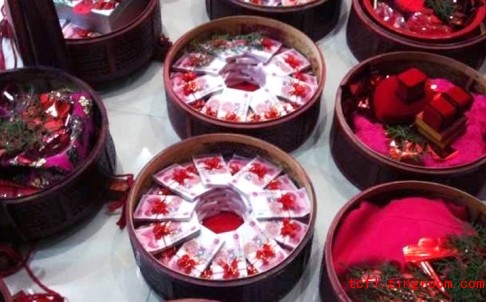 It is no longer a novelty for young men from China's nouveau-riche families to give huge amounts of cash to their lover as part of a traditional engagement custom, but one family in the coastal province of Zhejiang has taken the practice to new heights.
The young man's contingent presented his future bride's family with a whopping 8.88 million yuan, in cash, to get their approval, news portal hangzhou.com.cn reported. Photos taken at the ceremony have gone viral online and show the groom's family carrying 18 poles supporting thick decks of fresh new yuan bills, lavishly-wrapped jewellery and luxury apparel.
A total of 18 men, including the groom, carried the valuables to his lover's home on their shoulders in one of most famous marital customs in Zhejiang's culture, the report said.
The couple were from the vibrant city Yiwu, famous for its commodity trade. The man's family works in the construction business, while the woman's is involved with in a textile and toy manufacturing business. Both enjoy affluent lifestyles.
They set the cash gift at 8.88 million yuan because of its auspicious meaning in Chinese culture, the report quoted one of the couple's relatives saying at the ceremony. The pronunciation of number 'eight' in Putonghua sounds similar to "making a fortune".
The man's family said they had to inform the local bank two weeks in advance of the engagement so they could withdraw the money in fresh notes, the report said.
The ceremony is very much a ritual as well as a show of social status and good faith. According to local custom, the bride's side will return much of the money on the day of an even grander wedding ceremony. On top of that, they would also offer fair share of the gifts to the man's family.
Nonetheless, the dozens of celebrating relatives walking along the street carrying precious gifts caught onlookers' attention, with many taking photos and circulating them online.
"I hope I can befriend this guy," a number of internet users wrote as they viewed the scenes with envy, although others called the subjects "Tuhao", a popular satirical term used to describe 'wealthy-but-rustic' people.
Others tried to calculate the weight of the piles of cash, quantities only normally seen in the police-and-bank-robber films. The cash would weigh over 102kg, they said.