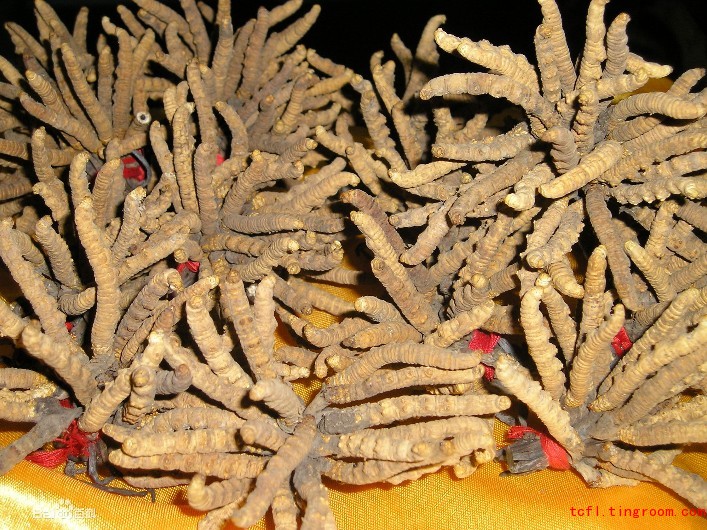 The caterpillar fungus, a cash cow for Tibetans, may die out in China in two decades due to over-exploitation on the Qinghai-Tibet Plateau, experts have warned.
When the harvest season ended this summer, many unlucky diggers found their fungus incomes were not enough to cover their costs — mainly a fee varying from 5,000 yuan (US$817) to 50,000 yuan levied by local authorities according to the acreage where they were allowed to dig.
The yellowish caterpillar fungus is about 5 centimeters long, but a tiny stalk sells for about the same price as gold.
"Even the luckiest diggers collect no more than 20 stalks a day," said Karma Daqung, a fungus expert and former manager of a state-owned farm in Yushu Prefecture in Qinghai Province.
Ten years ago, the plateau was rich in this "worm grass" and diggers could harvest 5 kilograms a day, he said.
"Back then, a seven-member family could earn 400,000 yuan in the harvest season, though fungus dealers paid 2,000 yuan per kilogram."
Today, the fungus price has soared, up to 300,000 yuan per kilogram and large numbers of avid diggers from Yushu and other Tibetan communities in western China flood in every summer.
The worm grass, known in China as "winter-worm summer-grass," isn't a plant. It forms when a parasitic fungus hijacks and then feeds off the bodies of ghost moth larvae that have burrowed into the alpine soil. It then pushes the remains of their bodies to the surface so the fungus can spread its spores.
The mummified moths are a traditional Tibetan cure-all that is believed to help fight cancer, slow the aging process and boost the immune system.
The fungus rush has also prolonged the normal harvesting period from 60 days to more than 70 days, causing severe damage to its growth cycle, said Li Yuling, a botanist at the Qinghai Academy of Animal Science and Veterinary Medicine.
"It's essential to set up a nature reserve to protect soil, worms and fungus before artificial growing of worm grass becomes possible," said Li.