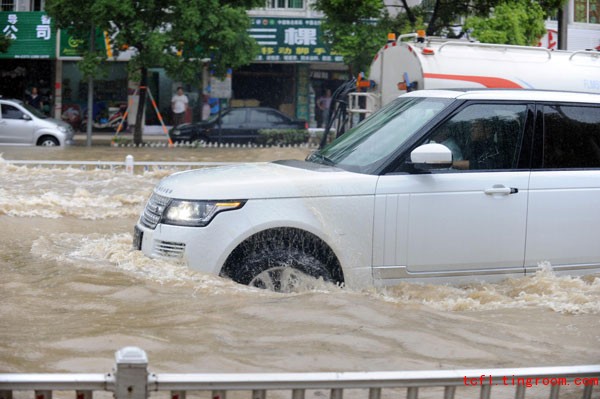 Typhoon Fitow, which barrelled into China's east coast early Monday packing winds of more than 200 kilometres (124 miles) an hour, killed at least five people and impacted 4.5 million, state media reported.
Two men died in Wenzhou city in Zhejiang province, the official news agency Xinhua said, while three people from the city of Ruian died of electric shocks.
One of the victims in Wenzhou, 55-year-old Ni Wenlin, died "when a strong wind blew him off a hill" late Sunday, Xinhua said, while the other, Chen Wanjie, was killed after being buried beneath his duck breeding factory.
Four other people are still missing, state media reported.
Fitow had affected about 4.35 million people in Zhejiang, with houses torn down and grain flooded, Xinhua reported citing the provincial flood control office.
Earlier it said the storm caused economic damage in the province of 2.28 billion yuan ($160 million).
In Fujian province another 210,000 people were affected, Xinhua said.
Parts of Zhejiang, which neighbours the commercial hub Shanghai, saw nearly 29 centimetres (11 inches) of rain over 17 hours from Sunday to Monday, the official China News Service said.
Areas in Fujian to the south saw up to 16 centimetres, according to the service.
In the hard-hit Cangnan County in Wenzhou, more than 1,200 homes collapsed, with damages amounting to hundreds of millions of yuan, China National Radio said.
In Fujian, the typhoon snapped electricity poles in half, leaving power lines on the ground, and bent iron roadsigns, CNR reported.
A village leader in the coastal city of Ningde told the Beijing Times that huge waves had damaged a 200-hectare (490-acre) seaweed farm, which nearly 100 families depended on for their livelihood.
The typhoon "broke the bamboo poles holding the seaweed in place", said Lin Fangqin.
Authorities evacuated hundreds of thousands of people on Sunday as Fitow approached the mainland, with tens of thousands of boats called back to harbour, bullet train services suspended and many flights cancelled.
The National Meteorological Centre (NMC) issued a red alert, the highest, for the storm as it moved towards the coast.
It is unusual for a typhoon to come ashore in China's southeast during October, at the end of the storm season, the report quoted the weather centre as saying.
Named after a flower from Micronesia, Fitow has hit just two weeks after Typhoon Usagi wreaked havoc in the region, leaving at least 25 reported dead in southern China.
Fitow earlier passed through Japan's southern Okinawan island chain, forcing flight cancellations and causing power outages.
Taiwan's Central Weather Bureau had issued a warning over the storm Sunday morning as it surged past the north of the island.
Japan was bracing for another storm Monday, Typhoon Danas, which is on course to hit the archipelago, while China said Danas would likely bring fresh rainstorms to already affected areas.
Packing winds of up to 180 kilometres (112 miles) per hour near its centre, Danas was churning northwest towards the southern Okinawa island chain Monday, and was expected to reach a point off the western coast of Kyushu island by early Tuesday.