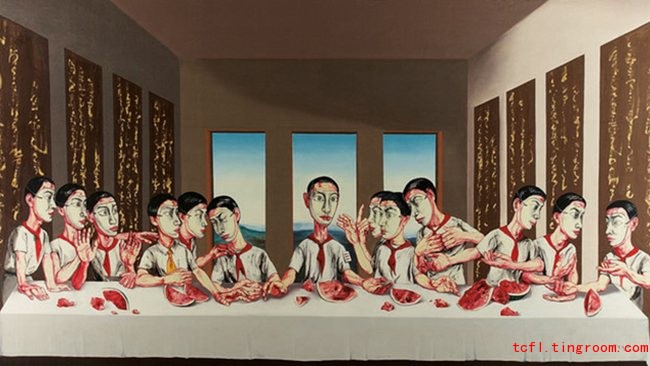 A PAINTING by Zeng Fanzhi sold for $US23.3m ($24.7m) at a Sotheby's auction on Saturday night in Hong Kong, setting a new record price for a work by an Asian contemporary artist.
Titled The Last Supper and inspired by the Leonardo da Vinci's 15th-century mural of the same name, the large painting­ - about 4m wide - was sold after a bidding war that lasted more than 10 minutes between two buyers on the phone. A crowd of 600 people in a packed room at the Hong Kong Convention and Exhibition Centre applauded several times as the prices slowly escalated up to the final result.
The winning bidder, who paid more than the presale estimate of $US10.3 million was not identified by the firm.
The work, sold by Swiss collectors Guy and Mariam Ullens, broke the previous Asian contemporary record set by Japanese artist Takashi Murakami's, My Lonesome Cowboy. That work, a sculpture, sold for $US15.1m at a Sotheby's auction in 2008.
"I'm speechless with that price," said Nick Simunovic, managing director of Gagosian Gallery in Hong Kong, about the Zeng sale. Gagosian represents Zeng and has exhibited and sold his works at its galleries. "It was questionable to me if the market could absorb so much quality material, but clearly it did."
Sotheby's performance in contemporary art has been in the spotlight this week after hedge fund manager Dan Loeb, whose Third Point LLC is the company's largest shareholder, blasted CEO William Ruprecht in a letter that said the executive had failed to appreciate and capitalize on the booming market.
Sotheby's has called the critique baseless. The auction house says it sold $1.3 billion in contemporary art last year, up from $US872m in 2010. In May, Sotheby's sold $US293.6m worth of contemporary art in two hours' time at its major spring sale in New York. The following night, Christie's countered with a $US495 million sale of its own.
The Last Supper was one of 61 modern and contemporary Asian works of art on offer at the auction house's 40th anniversary evening sale to mark the firm's 40 years of operating in Asia. In all, 55 of the 61 paintings and sculptures were sold for a total value of $US145.2 million.
Sotheby's said that bidders represented 25 countries, pointing out that the market for modern and contemporary Asian art is an international one. "There was a lot of cross-buying," said Evelyn Lin, the firm's head of Asian Contemporary art.
Eleven artists had works that set new records, including French-Chinese painter Zao Wou-ki. A Zao work titled 15.01.82 (triptych) sold for $US11m to an Asian bidder, below the presale high estimate of HK$90 million.
"This was crazy," said Pascal de Sarthe, a Hong Kong-based art dealer who often sells Zao's art. "There were a lot of new buyers I haven't seen before. The market has exploded."